March 1, 2022
Dear Jewish Community Member,
It goes without saying that we are all shocked and concerned about the welfare of our Jewish brothers and sisters in Ukraine.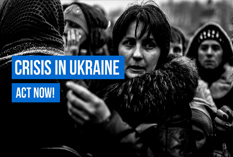 URGENT HELP IS NEEDED DONATE NOW
OUR FEDERATION WILL MATCH YOUR CONTRIBUTION DOLLAR FOR DOLLAR. If you give $100 then Federation will give $100. The Federation has already donated $1,000 and the Federation will match up to $10,000 from our community. THE MONEY WILL BE SENT TO JEWISH FEDERATIONS OF NORTH AMERICA UKRAINE RELIEF.
Please give generously on our Federation website homepage by:
1. Clicking on the orange DONATE button on the sidebar on the left side of the home page
2. Enter your dollar amount
3. At the USE THIS DONATION FOR, hit the down arrow and select UKRAINE RELIEF
4. Select the box to add a small amount of money to offset the transaction cost
5. Select donate with credit card
6. Click on WRITE A NOTE (OPTIONAL) and type in UKRAINE
7. Add your credit card information. Check credit card expiration date for accuracy
8. Add name and billing address
9. Click on DONATE NOW
Or send us a check ASAP, payable to Greater Altoona Jewish Federation, PO Box 224, Hollidaysburg, PA 16648.
Thus far we have raised and sent over $23, 000 to JFNA Ukraine Relief from the Federation and 43 community families.
With the Russian invasion now underway and multiple locations under fire, support for the Jewish community is needed urgently.
Immediate and short term needs already total $20 million and include:
Helping people make Aliyah to Israel
Securing the local community and its institutions
Maintaining critical welfare services
Assisting internally displaced people in multiple locations
Launching an emergency hotline
Securing temporary housing for people in transit
Purchasing satellite phones to maintain communications across the region
Securing five Jewish schools and training staff to manage crisis needs
Here is a link to the JFNA's Ukraine Briefing from Tuesday, March 1, 2022.
https://vimeo.com/683470026/956ce0ba0c